Summer special with access to the pool and special breakfasts
More info
Comfort and elegance for your stay
Hotel AACR Monteolivos is located in a building famous for its Romantic-style decoration, offering a warm welcome, comfort and tranquillity to all our clients as well as the exquisite service which characterises us.
Our hotel is Ideal for business trips or family holidays and you will be surprised by our beautiful garden with swimming pool and its relaxing social room.
Ready for your return!
At the Monteolivos hotel, we have finalized every detail in order to comply with the safety and hygiene standards necessary for your safety. Among all the measures taken in agreement with local governments, we highlight that the pool and common areas will have limited capacity, the use of a mandatory mask, as well as social distance; Substitution of the buffet breakfast for a complete breakfast to choose between two fantastic options, to be consumed in common areas or in your room.
Best price

No booking fees

Special offers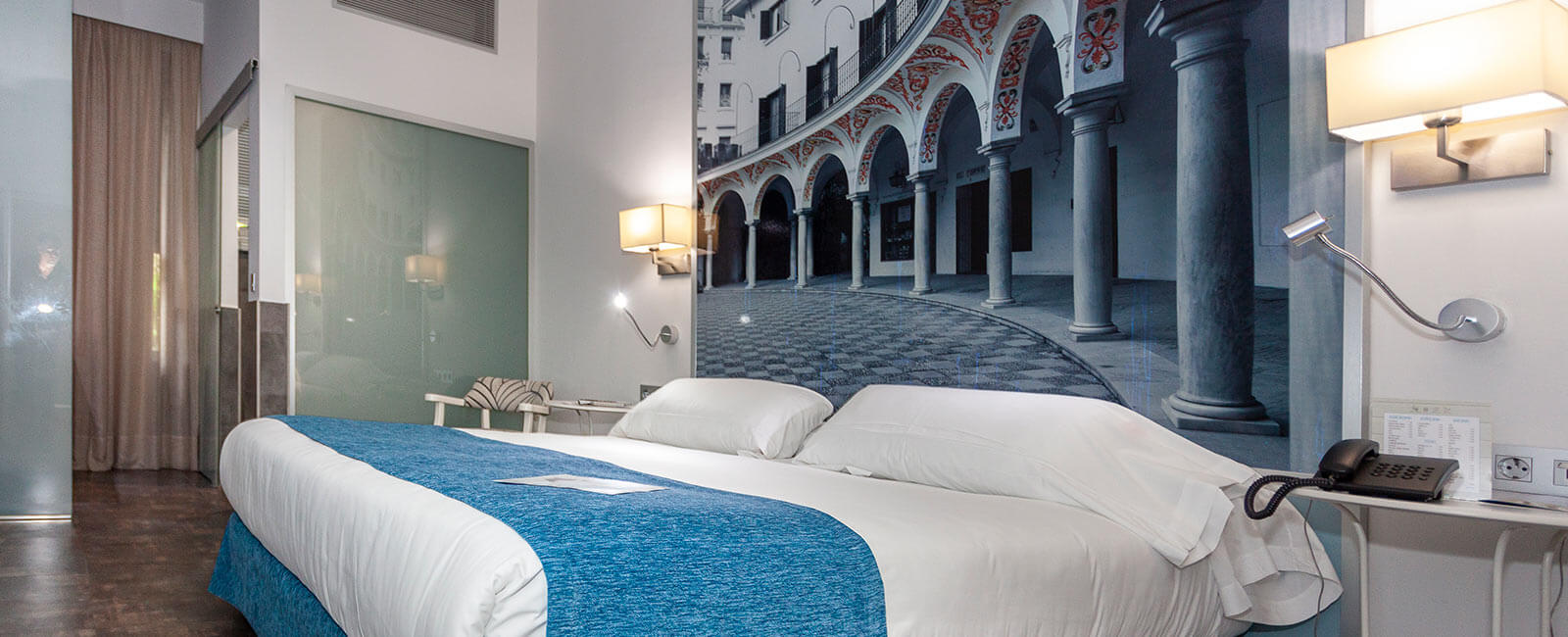 Cosy rooms
Hotel AACR Monteolivos offers 34 comfortable rooms, all of them double for single use, distributed over two floors.
See more
Andalusian Tourist Voucher Guide
From 1 October 2020 until 31 May 2021, all Andalusians travelling within the Autonomous Community will be able to save 25% or 50% on the total cost of accommodation.
What are the requirements for applying for this aid?
The journey must be made outside the place of residence.
Applicable for minimum stays of 3 nights.
The trip must be made between October 1, 2020 and May 31, 2021.
The accommodation selected must have the "Andalucía Segura" label.
Reservations must be made through travel agencies or points of sale that also have the "Andalucía Segura" label.
How can I start the procedure?
You can make the request both online and in person. To do so, consult the communication from the Junta de Andalucía.

We are located in Seville
We are waiting for you in Seville, a city that you will fall in love with from the first moment you arrive. In the AACR hotels we always maintain a commitment to our clients we have had since 1992. Our experience allows us to offer them an exquisite service in a warm and friendly atmosphere.
Address: Calle Monte Olivete, 5, 41007, Sevilla, Spain
37.39176458º

37º 23' 30.352488" N

-5.970656276º

-5º 58' 14.3625936" W
Nearby points of interest
Santa Justa train station: 9 min
Sevilla F.C. stadium: 14 min.
San Pablo Sports Centre: 12 min.
Old town: 25 min.
Seville Cathedral: 30 min.
Airport: 15 min. by car
Main services
Parking (surcharge)

Free Wi-Fi

Reception desk open 24/7

Swimming pool open from May 1 to November 1
General services
Bar
Swimming pool
Heating
Air conditioning (hot-cold)
Non-smoking hotel
Elevator
Luggage storage
Accessible facilities